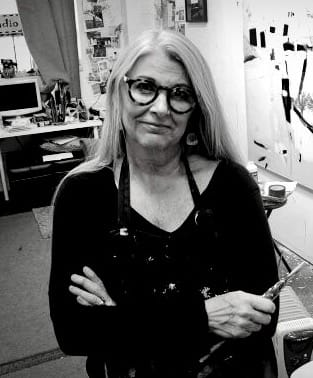 Roxanne Rossi
Roxanne Rossi was born and raised in Colorado, and received her Fine Art Degree from the University of Northern Colorado with an emphasis in drawing and painting.
As an art educator for 30 years in Colorado, she continued her studio practice as well as her own education of a variety of materials and mediums. While teaching full time, even though studio time was limited, she was able to show her work and win awards.
Now with her studio in Denver and a new studio in Tucson, she is able to devote full time to her art. She consistently works to develop her visual language in mixed media. Her current work is exploring the use of layered papers to create textures and subtle imagery in both her acrylic paintings and her cast paper work. She continues to teach small paper-making classes to adults, to give lectures, and to jury shows.
Roxanne is part of the Denver Convention Center, IMA Financial, Collegiate Peaks Bank, and several other permanent art collections. She has shown in a variety of cities in Colorado, New Mexico, Arizona, Louisiana, and New York.