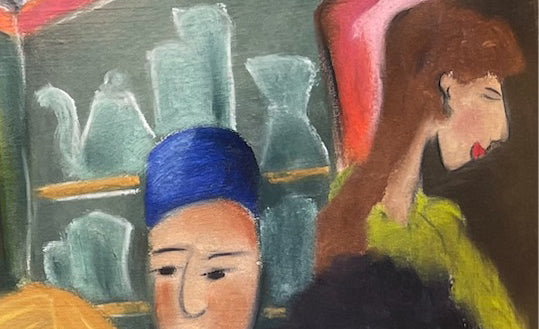 Artist:  Tatjana Krizmanic
22" X 30"
Pastel on Paper
HOLIDAY SPECIAL:
20% OFF with code LoveFromTatjana - good 'till 1/1/22 11:59pm
This painting was originally painted in 2014 and finished in 2020. The surface of the paper was hand sanded by the artist to provide a richly textured background for the painting. The cheerful scene of morning coffee goers in a San Francisco neighborhood is executed in signature Tatjana style. Her brilliant colors and swirling perspectives depict ordinary life moments with a distinctly European sensibility. 
"Living with a painting by Tatjana Krizmanić means you'll never have a day without moments of joy", says a fan from Denver, Colorado. "The people in her paintings are at the same time serene and joyful but also soulful and pensive - it's as if you can peer into the intimate moods of the passers by through the eyes of the artist".
Painting ships from Brooklyn New York in a tube with artist's instructions for pastel painting handling and a Certificate of Authenticity.
PRICE INCLUDES SHIPPING
Delivery Time
Shipping & Handling
3-7 days
Ships within 2 days
* Expedited shipping available for some items
Email info@curated.world for more information.